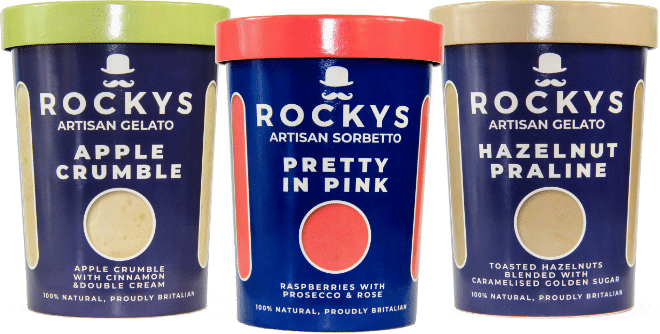 100% NATURAL, PROUDLY BRITALIAN
TWO COUNTRIES
ONE GREAT TASTE
At Rockys we use our own, award winning, British milk and combine it with old world techniques from Italy, to create some of the finest gelato possible.
We're proudly Britalian!
Sourcing the finest ingredients for our gelato, is something we take incredible pride in.  
Whether that be the perfectly ripe British Strawberry, our intense Sicilian pistachios, or our rich Madagascan cocoa, you can be assured, Rockys Gelato is always 100% natural.
We are one of the few gelato makers in the world, lucky enough to have their own farm. 
Our happy, pasture fed cows, produce award winning dairy. Their raw milk travels a few metres to our onsite Gelateria, ensuring we have the freshest, tastiest gelato possible.
Rockys first started in 1882, when Eliseo Rocchiccioli left his ancestral home in Barga, Italy and journeyed to Britain to begin a new life.
 We pay homage to his legacy in our logo and by creating our gelato using the same artisanal techniques he would have used back then.

Gelato is different to standard ice cream. If you've ever tasted authentic gelato from Italy, you'll know exactly what we mean. 
We want everyone to know the difference. Become a gelato connoisseur… and join the revolution!